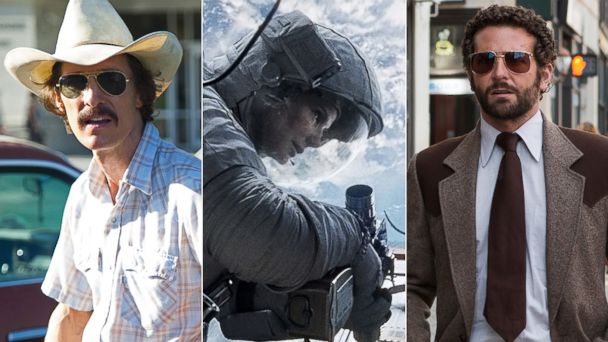 2013 brought some of the best motion pictures and television shows in history - from Dallas Buyer's Club to Gravity, from Breaking Bad to House of Cards. I've never found myself as immersed in film and television as I was this past year.

With Tina Fey and Amy Poehler (two of my favorites!) hosting the 2014 Golden Globe Awards tonight, I thought I'd make my predictions (and hopes) for winners tonight, especially considering I've watched almost every film and show nominated.

BEST DRAMA
12 Years a Slave - Though Gravity may end up spoiling this win, 12 Years a Slave deserves this award for its depiction of a brutal history through film.

BEST MUSICAL/COMEDY
American Hustle - I haven't seen it, in fact I haven't even seen The Wolf of Wall Street yet (I plan on watching both this upcoming weekend), but I think I can make the bet that the amazing cast of Bradley Cooper, Jennifer Lawrence, Amy Adams, and Christian Bale deserve this award.

BEST DIRECTOR
Alfonso Cuaron, Gravity - No doubt about it, Alfonso Cuaron deserves this award for an unbelievable, groundbreaking direction. However, had Spike Jonze been nominated for Her, he would have deserved this more.

BEST ACTRESS (DRAMA)
Sandra Bullock, Gravity - I'm not so sure if this was Bullock's best performance, but she definitely demonstrates impeccable control of the film... and the emotions are real.

BEST ACTOR (DRAMA)
Matthew McConaughey, Dallas Buyer's Club - This category is definitely the hardest to choose a winner. Chiwetel Ejiofor deserves this just as much as Matthew McConaughey, perhaps even more, but McConaughey's performance as Ron Woodroof in Dallas Buyer's Club was what I believe to be his career-best.

BEST ACTOR (MUSICAL/COMEDY)
Leonardo DiCaprio, The Wolf of Wall Street - If not Leonardo, then please give it to Joaquin Phoenix.

BEST ACTRESS (MUSICAL/COMEDY)
Julia Louis-Dreyfus, Enough Said - I love Julia Louis-Dreyfus. I'm biased. Realistically, though, Amy Adams will most likely win for American Hustle.

BEST SUPPORTING ACTRESS
Jennifer Lawrence, American Hustle - Who doesn't love Jennifer Lawrence?

BEST SUPPORTING ACTOR
Jared Leto, Dallas Buyer's Club - More than any other nominee in any other category, Jared Leto should and will win Best Supporting Actor for his incredibly accurate portrayal of a transsexual AIDs patient.

BEST SCREENPLAY
Spike Jonze, Her - Here's one that I'm really rooting for. I don't think many are expecting Spike Jonze to take Best Screenplay considering who he is facing. However, Jonze's Her contains such beautiful direction, score, and dialogue... it is such an uncomfortable must-see film. It deserves to win this award.

BEST ANIMATED FEATURE
Despicable Me 2 - I loved DM2, such a beautiful family film that carries a delivers a sophisticated message with such cuteness.

BEST ORIGINAL SONG
"Ordinary Love," Mandela: Long Walk to Freedom - "All the beauty that's been lost before, wants to find us again."

BEST SCORE
Hans Zimmer, 12 Years a Slave

BEST TV COMEDY
Parks and Recreation - Amy Poehler is just the best.

BEST TV DRAMA
Breaking Bad - This is a tough choice. Television this year was incredible, and Netflix's House of Cards should win this category. But, it has only started... and without a doubt will see many more nominations in the future. What Breaking Bad has accomplished is extraordinary, and as a final ode to the show - it deserves the highly coveted Best TV Drama award.

BEST ACTRESS IN A TV DRAMA
Taylor Schilling, Orange Is the New Black - I'm a huge OITB fan, and Schilling's performance is Golden Globes' worthy.

BEST ACTRESS IN A TV COMEDY
Amy Poehler, Parks and Recreation - Leslie Knope is the greatest.

BEST ACTOR IN A TV DRAMA
Bryan Cranston, Breaking Bad - Kevin Spacey will be winning this in the years to come, but Bryan Cranston's impeccable portrayal of Walter White in all seasons of Breaking Bad deserves a standing ovation when he accepts Best Actor tonight.

BEST ACTOR IN A TV COMEDY
Jim Parsons, The Big Bang Theory - I don't watch The Big Bang Theory but from what I've heard and seen, this one goes to Parsons.

BEST MINISERIES
American Horror Story: Coven

BEST SUPPORTING ACTRESS IN TV
Sofia Vergara, Modern Family

BEST SUPPORTING ACTOR IN TV
Aaron Paul, Breaking Bad - As much as I want Corey Stoll to win this award and think he deserves it, I can't wait to see Jesse Pinkman accept this award... and like Walter White, receive a standing O.

Thank you to all nominees for creating an incredible year of film and television.